The information contained on this page was developed to provide a very basic description of the firearms application process and guidance in preparing required forms and applicable fees. The time line may vary depending on the type of application submitted and the extent of a background investigation required. The bulk of the waiting period can be attributed to the time it takes for the department to receive any fingerprint check records from the State of New Jersey and the FBI. The firearms investigations conducted by the Newton Police Department are the responsibility of Sergeant Steve Benson and are investigated in accordance with N.J.S. 2C:58-3C-4. Contact with Sgt. Benson can be done via phone at 973-383-2525 or e-mail sbenson@newtonpolice.org. All completed forms must be forwarded to him. All questions on each application must be answered. The application should be typed or printed legibly in ball point ink. Applicants will be asked to clarify any information that appears unclear and may be required to complete missing information before the background process can begin Please refer to the following sections to determine which forms are requried for the permit you are seeking. Forms may also be obtained at Police Headquarters through Sgt. Benson.
FIREARMS ID CARD – INITIAL APPLICATION
The following forms are required when applying for an initial Firearms ID card:
FINGERPRINTS
Fingerprints are required for initial applicants and are completed at a private company tasked with taking fingerprints and electronically filing them with the State Bureau of Identification. There is a form which needs to be completed for fingerprinting and is only available through the police department. Sgt. Benson will provide the form to you and explain the process and the fees involved. Once you have been fingerprinted for an initial application, you will not need to be fingerprinted again for any future applications.
PERMIT TO PURCHASE A HANDGUN
If you have obtained a Firearms ID card and want to apply for a permit to purchase a handgun, the following forms are needed:
DUPLICATE FIREARMS PURCHASERS ID CARD
If a duplicate Firearms Purchasers ID Card is needed, the following forms are needed:
PERMIT TO CARRY A HANDGUN
If applying for a permit to carry a handgun, the following forms are needed:
Applications for a Permit to Carry a Handgun are investigated by the police department, however the ultimate ruling on granting or denying the application is decided by a Superior Court Judge.
PROJECT CHILDSAFE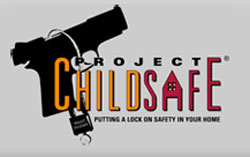 The Newton Police Department participates in Project ChildSafe. The goal of this initiative is to inform and educate all firearms owners on key safety issues and to provide firearms safety kits that include a gun-locking device. Free gun locks can be obtained at Police Headquarters or by contacting Sgt. Benson.