Use of the New Jersey Firearms Application Registration System (FARS) is now the preferred method for completing firearms applications. Utilize the instructions below to submit your applications. Contact Firearms Investigator Det. Peter Vex at (973) 383-2525 x267 or pvex@newtonpolice.org for any needed assistance.
Firearms Application Registration System (FARS) Application Procedure for Applicants
close
If you currently have a Firearms ID Card and are applying for Purchasers Permits, log on to the below site which will guide you through the SBI records check process.
Click, "Online S.T.S. 033 Form".
Enter NJ0191500 as ORI Number. This number is for the Town of Newton residents only. Please be aware that there are jurisdictions outside of the Town of Newton which use Newton as a mailing address. If you reside outside of the Town of Newton, contact the law enforcement agency responsible for your town to find out the correct ORI Number.
Proceed to complete the on-line application.
When completing the application, you will need the email addresses of two (2) reputable references (NOTE: REFERENCES MAY NOT BE FAMILY MEMBERS), whom you have known for at least three (3) years.
close
References may not be family members or household members.
You will be receiving automated email updates throughout this process.
Once your investigation is complete, the Newton Police Department will contact you for payment for your Firearms ID Card and/or pistol purchase permit documents.
Recently, N.J.S.A. 2C:58-3 and 2C:58-4 have been amended by the legislature resulting in an increase in fees for all applications received after December 22, 2022. This updated fee schedule may not be reflected within FARS at this time.

Fees are as follows:
-Initial Firearms Identification Cards – $50.00 (Check/Money Order payable to "Town of Newton")
-Pistol Purchase Permits – $25.00 (Check/Money Order payable to "Town of Newton")
Permit to Carry – $150 (Check/Money Order payable to "Town of Newton") AND $50.00 (Money Order only, payable to "Treasurer State of New Jersey")
– Change of Address and replacement cards remain free of charge.

Payment may be made with a check, money order.
Checks and money orders are to be made out to "Town of Newton".
Firearms ID Cards and pistol purchase permits are issued on-line, through your email.
close
The on-line application is applicant driven. Please ensure that you have entered the best phone numbers and email addresses for yourself and your references. It is preferred that you utilize the on-line process to complete the application and related paperwork. However, if you are unable to complete it on-line, please contact the Firearms Applicant Investigator, Det. Peter Vex, who will assist you. Application for a Firearms ID Card requires your fingerprints taken. If this does not occur within 90 days of the application, your application will be withdrawn, and you would be required to reapply through FARS for your request. Incorrect information entered will cause a delay in the processing of your application.
CONCEALED CARRY PERMITS
Please view the Concealed Carry Permit application instructions issued by the New Jersey State Police for instructions on how to apply. 
Please use this form for application. 
Applicants must review the following documents from the New Jersey State Police Firearms Investigation Unit:
FIREARMS-RELATED FORMS
Please visit the New Jersey State Police website for electronic copies of firearms-related forms.
FIREARMS REFERENCE QUESTIONNAIRE
If you are providing a reference for a firearms applicant, please complete the electronic Firearms Reference Questionnaire.
PROJECT CHILDSAFE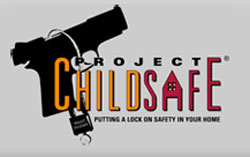 The Newton Police Department participates in Project ChildSafe. The goal of this initiative is to inform and educate all firearms owners on key safety issues and to provide firearms safety kits that include a gun-locking device. Free gun locks can be obtained at Police Headquarters or by contacting Det. Vex.